Our History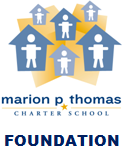 In 2004, Fathers for our Children, Marion P. Thomas Charter School's signature event and fundraiser was established. The program, held annually in Newark, NJ, was developed to honor men, who serve as role models to Newark youth. Recognizing the need to help students continue their education at quality schools, the proceeds from the event were earmarked for scholarships to help MPTCS graduates attend tuition-based high schools. In 2008, the Marion P. Thomas Charter School Foundation was established as a separate entity to help focus fundraising efforts for scholarships , as well as other educational enhancements.
Our Mission
The Marion P. Thomas Charter School (MPTCS) Foundation was established exclusively for charitable educational purposes. An independent, non-profit organization, the MPTCS Foundation's fundraising efforts on providing tuition support for Newark students who successfully graduate from the Marion P. Thomas Charter School and are accepted into colleges and universities, as well as accredited culinary schools. This support serves as an incentive to MPTCS alumni to continue their education and ultimately become leaders who commit to empowering their communities through education.
MPTCS Foundation Leadership
The MPTCS Foundation is run by a volunteer board of directors who are active supporters of public education in the Newark community. Through fundraising efforts, the MPTCS Foundation is able to provide scholarships to MPTCS alumni who are attending post-secondary institutions. The Foundation receives support from individuals, foundations and corporations who are interested in helping Newark students excel. The support helps to close the gap for students who have been accepted into quality schools, and would otherwise not be able to attend due to financial hardship.